Over The Counter (OTC Medication)
Please make every effort to do your part in helping and supporting the NHS by buying Over the Counter medication.
In 2019, the cost of the prescriptions dispensed in the community in England was £9.08 billion. This was an increase of 2.81% (£248 million) from £8.83 billion in 2018.
The overall number of prescription items dispensed in the community in England in 2019 was 1.12 billion. This was an increase of 0.98% (10.9 million) from 1.109 billion in 2018.
Many of the items which are included within these prescription are available 'over the counter' meaning that you can purchase these items yourself in pharmacies and other outlets, without the need for a prescription. Normally the price of these over the counter drugs is much much lower than what you would have to pay for a prescription fee. If more patients are able to self-medicate simple ailments, patients and the NHS can both save a drastic amount of money.
Here is a list of some of the most common drugs that you can buy much cheaper in supermarkets, pharmacies, or even in discount stores:
Paracetamol
Aspirin
Antihistamines
A number of ailments also have a variety of over the counter treatments which are much cheaper to purchase yourself than via prescription. In order to save an estimated £560 million, the NHS will no longer prescribe medications for the following minor conditions for which over the counter medication is readily available at low cost:
Dandruff
Dermantitis
Dry Skin
Earwax
Excessive Sweating
Hay Fever/Seasonal Rhinitis
Head Lice
Insect bites and stings
Mouth Ulcers
Nappy rash
Ringworm and Athletes Foot
Sunburn
Sun Protection
Teething/mild toothache
Threadworms
Travel Sickness
Warts and Verrucae
Minor conditions associated with pain, discomfort and fever (such as sprains, headache, period pain and back pain)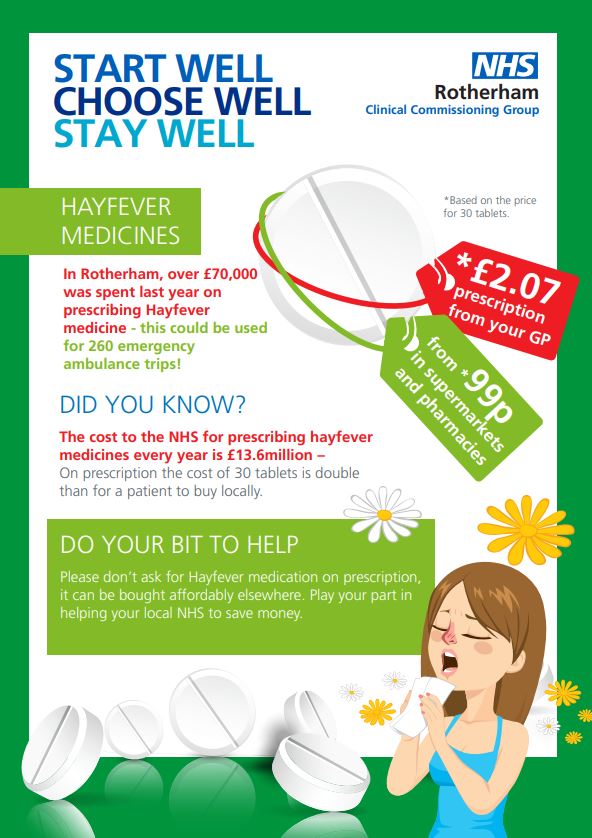 ---
Repeat Prescriptions
We require 48 working hours to prepare a repeat prescription, so please place your order well before your existing medicines are used up.
After many years of accepting repeat prescriptions over the telephone, we have taken the difficult decision to terminate this service from Friday 13th July 2018.
We are advised by NHS England to encourage patients to sign up to online access. The evidence for the benefits of online interactions between patients and their GP's continues to grow, the key benefits amongst many others being:
Improved access to patient care
Increased patient satisfaction overall
Improved communication between patients and practices
Reduced travel for patients
Reduced administration workload for practice staff
The most important reason for this decision is safety. We are getting increasing numbers of inconsistencies between what the patient says they have ordered and what has been requested by the medical receptionists.
The Practice is getting busier and busier with more people on repeat medication for ever increasing complex conditions. We made the difficult decision to stop the taking of prescriptions over the telephone so as to minimise the risk of a potential error causing a significant event. We hope in making this change it will free up our phone lines for patients contacting us for other urgent or important queries and also allow our medical receptionists to process repeat prescription requests.
We understand that this might not be popular with some patients but we hope that you will understand that your safety is of paramount importance.
When requesting a repeat prescription, please make it quite clear which medicines you require. Leave details of your request in the prescriptions box at the bottom of the stairs, or post them to us. If you want us to post your prescription to you, please provide a stamped addressed envelope.
Alternatively you can order online on the System Online Website or the Rotherham Health App. First time users are required to call in person at reception with appropriate identification (photo identification plus a document with name and address e.g. bank statement but not utility bills) to complete a simple registration.
---
We require 48 working hours to prepare a repeat prescription, so please place your order well before your existing medicines are used up.
Electronic Prescribing (EPS)
From the 12th April 2016 the surgery has participated in the Electronic Prescribing Service (EPS). To reduce paper and save time you will be able to have your prescriptions sent to the pharmacy of your choice. For more detail click on the following link EPS Fact Sheet
---
Medication Reviews
Patients on repeat medication will have their medication reviewed at least once a year. This may result in a message asking you to see a GP or a Nurse. Please ensure that you book an appropriate appointment to avoid unnecessary delays to further prescriptions.
---
Prescriptions Charges and Exemptions
Extensive exemption and remission arrangements protect those likely to have difficulty in paying charges (NHS prescription and dental charges, optical and hospital travel costs).
The NHS prescription charge is a flat-rate amount which successive Governments have thought it reasonable to charge for those who can afford to pay for their medicines.  Prescription prepayment certificates (PPCs) offer real savings for people who need extensive medication.
---
NHS charges
These charges apply in England only. In Northern Ireland, Scotland and Wales prescriptions are free of charge.
Prescription (per item): £9.35
12-month prepayment certificate (PPC): £108.10
3-month PPC: £30.25
If you will have to pay for four or more prescription items in three months, or more than 15 items in 12 months, you may find it cheaper to buy a PPC.
There is further information about prescription exemptions and fees on the NHS website
---
Repeat Prescription requests from Community Pharmacies
As of the 1st April 2017 we NO LONGER accept any repeat prescription requests from community pharmacies on behalf of patients. Patients (or their carer, nominated family member/friend) must order repeat prescriptions directly from the GP practice themselves. Collection of prescriptions from GP practices by community pharmacies on behalf of patients will not be affected.
The 27 practices who have made or are making this change, with the full support of NHS Rotherham CCG, have carefully considered all options, engaged extensively with key stakeholders (patients, carers, patient participation groups and voluntary groups) and decided to take this action to reduce medicine waste.
The most efficient and safest way is to order your prescriptions using the on-line order service. If you are not yet registered for this call at our reception with some form of photographic identification and we will organise this facility for you.
---